Raj and Anna Asava are on a Mission for a Hunger Free North Texas
We sat down with husband and wife team Raj and Anna Asava, founders of the Indian American Council for the North Texas Food Bank, to learn about the fun ways they are driving awareness, volunteering, and fundraising to end hunger here in North Texas.
DHP: Of all the social impact spaces – homelessness, illiteracy, women's empowerment, etc. what is it about hunger that pulled you in as the cause to devote your philanthropy to?
Raj and Anna: Hunger is a basic need that does not know race or politics. There is no debate – in today's time, hunger should not exist.
DHP: Why do you want to galvanize the Indian American community around this cause?
Raj and Anna: As immigrants from India, we were always aware of the need there. But when we learned that hunger existed here, in a developed country, we were shocked.
We want volunteering at the food bank to become a habit amongst Indian Americans, so that we're not just seen as successful immigrants but as visible, active members that contribute positively to our community. Volunteering also becomes a gateway to more civic engagement. We feel that if the Indian American community galvanizes around this cause, we would make a huge impact.
DHP: How have you been integrating cultural elements into your work at the North Texas Food Bank?
Raj and Anna: While we want to integrate into the mainstream community, we also highlight and celebrate our diversity by blending in cultural elements. When we play Bollywood/Tollywood music while people are volunteering, it ups the fun. You can see the energy level shift. Someone will take a 5 second pause, do a quick dance move, and then get back to the line. It helps bring people together and makes a 2-hour shift fly by. We conduct special volunteering and food drives for 15 August (India's Independence Day), Diwali and Holi – iconic Indian festivals. We are looking for champions that can guide us with other festivals (e.g. Eid, Ugadi, Baisakhi).
DHP: Given both of you had previous high-powered careers in separate fields (Raj was the Chief Strategy Officer of Perot Systems and Anna helped set up global IT centers for EDS) what has it been like working together as a married couple on this large endeavor?
Raj and Anna: It's very rewarding to have a partner to have unscripted discussion with. When there's conflict, it's really just a healthy debate because there's never a doubt about intentions. As spouses, we've both signed up to a common vision.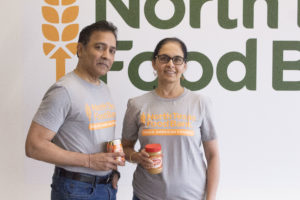 Read more about our heroes that work on issues related to United Nations Sustainable Development Goal Zero Hunger.