Ebony Smith: "If Yoga Can Help Me Heal, then this is what the Hood Needs"
Ebony Smith, a native Dallasite, learned about yoga when she was an alcoholic, high on prescription drugs, and pregnant with her first daughter. Her doula recommended yoga for her pregnancy, which also forced her to confront her past decisions. It was in starting yoga that for the first time she started thinking, "I have the power to heal from these wounds. I am more than what surrounds me."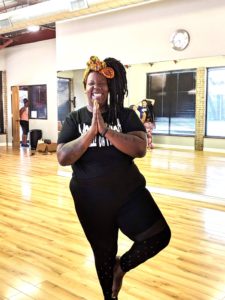 However, Ebony could not afford the yoga classes. The studios were expensive. The classes felt awkward and unwelcoming. No one there looked like her. To afford the classes, she cleaned the yoga studios. But yoga was changing her life. She thought, "if yoga can help me heal, then this is what the hood needs." Experiencing how intimidating yoga was for her in the beginning, Ebony pondered "how can I offer this to my community?"
Thus Ebony founded Yoga N Da Hood in order to make wellness accessible to everybody. She wants to bust the myth that yoga is just for the rich or that it has religious undertones. She wants to bring yoga to underserved communities and groups, especially African American women, a demographic that traditionally isn't represented in self-care advertising. She makes classes approachable and fun by mixing in pop culture – she'll bring in a DJ to mix hip hop beats while coaching through Vinyasa poses and flows. Her personality and teaching style is a unique mix of vivaciousness and calmness at the same time.
She is also bringing yoga to schools, with curriculum aligned with P.E. (Physical Education) and social-emotional development standards. Last year in the 5 schools Yoga N Da Hood was in, they saw a 72% decrease in classroom disruptions and a 31% increase in classroom academics.
Interested in helping Ebony? She has 3 current goals for Yoga N Da Hood:
Training more teachers on a trauma-informed approach to yoga and mindfulness
Opening a trauma-informed wellness center in Dallas' Southern Sector (the organization is currently going through a capital campaign)
Expanding to other cities (the organization is starting programming in Waco and Austin)
Check out www.yogandahood.com and www.facebook.com/yogandahood/ for more information.
Read more about our heroes that work on issues related to United Nations Sustainable Development Goal Good Health and Well-Being.